Many people consider their wedding day one of the most memorable days of their life. We understand the importance of this day, and so we are here to help you make the types of decisions that will make your day special. We know that the choices for such an event are endless. From a small, private wedding to a large tented extravaganza, we will help you create a customized experience that will be talked about for years to come.
If you decide to partner with Karen Spire Catering for your wedding, we will provide a full complement of event planning and coordinating services. During the planning of your wedding you will work with us to determine a timeline for your ceremony and reception. Our front of house coordinator, Erin Mahon, will act as a direct liaison between the bride and groom, the guests, and the vendors. She will also oversee the ceremony setup and breakdown, the reception setup and breakdown, and the bar setup and breakdown.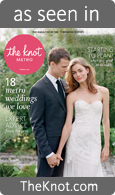 The costs of Karen Spire Catering will include complete staffing for the event, which averages approximately one staff per ten guests. Erin will oversee the staff as they prepare the reception, which includes arranging the linens, tables, chairs, and settings in the fashion you indicated during the planning phase. During the dinner hours, these staff will also ensure that your guests have everything they need to enjoy their dinners and your special day.
Learn More About…